Prepare For A Grid Down False Flag To Ring In 2021 As Globalists Go Back To Their Old Tricks By Demonizing Russia And 'Telegraphing' Something Huge Ahead
- 'We May All Have To Pay The Price'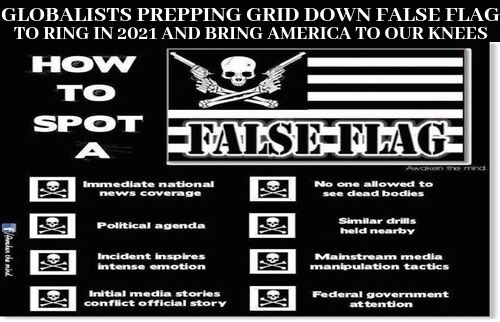 With Democrats and the 'deep state' once again screaming 'Russia, Russia, Russia' at the top of their lungs following an alleged 9-month-long hack that exposed US government agencies across the board, all we need to do is take a look back at several ANP stories from 2016 while Barack Obama was still president to see the globalists under Joe Biden are starting off again right where they left off. 
While things have been relatively quiet on the World War 3 front for the past 4 years with President Trump in office and he 'keeping the peace' with Vladimir Putin and Russia, we get a small glimpse of what the next 4 years might look like with the globalists quick to turn Russia into a 'boogeyman' again. 
As we had reported back on October 27th of 2016, soon before the election, in this story titled "Russian General Has Alarming Warning For Americans: 'We Are Teetering On The Brink' - Russia Warns Globalists Trying To Turn The Entire World Into 'Uncontrolled Chaos'", the globalists way back then were pushing heavily for some kind of 'confrontation' with Russia. And while President Trump got into office and all of those fears of World War 3 'went away', it didn't take long for the demons to bring them back, with words like 'Pearl Harbor' and 'the perfect storm' being thrown around like Christmas candy. 
From this Daily Mail story titled "How 'cyber equivalent of Pearl Harbor' unfolded at the 'perfect time for a perfect storm': Feds may NEVER know true scale of 9-month-long Russian hack that