the top dog
Lightfoot announces curfew as police SUVs flipped, set on fire in clashes with rioters during George Floyd protests in downtown
ANTIFA has no fear
The mayor said the curfew would begin at 9 p.m. Saturday and last through 6 a.m. Sunday, as she blasted violent rioters, saying they undermined peaceful protesters.
By
Sun-Times staff
Updated May 30, 2020, 4:23pm CDT
A Chicago Police SUV is set on fire during violent protests Saturday as outrage builds over the Minneapolis police's killing of George Floyd. Ashlee Rezin Garcia/Sun-Times
Mayor Lori Lightfoot, noting her "total disgust" for rioters hitting downtown Chicago, announced a
curfew starting at 9 p.m. Saturday through Sunday morning, after protesters and police clashed violently in the wake of the Minneapolis police killing of George Floyd.
A Chicago Police SUV was tipped onto its side and others had their windows broken or were set on fire. Some protesters threw bottles of urine or fireworks at police. And several officers were seen raising their batons and striking protesters during confrontations.
Multiple storefronts were smashed and along the Magnificent Mile, including a Nike store, which was looted, and an AT&T store. People were also seen entering a Starbucks and 7-Eleven through shattered windows and taking items near Lake and Dearborn streets. Looters also hit the Thompson Center.
RELATED
WATCH: Mayor Lightfoot holds press conference as George Floyd protest escalates
The protest started 2 p.m. Saturday as hundreds began gathering at Federal Plaza, again chanting and demanding "Justice for George." Soon, the crowd swelled into the thousands and spilled onto streets throughout the Loop, splintering into different groups.
Protesters surrounded police near the Daley Center and eventually posted up near Trump Tower while another group shut down Lake Shore Drive.
Tyler LaRiviere/Sun-Times
About 5:30 p.m., a police line began pushing protesters south across the Chicago River. Several bridges spanning the river were raised, and police issued a warning to protesters in Spanish and English about the potential use of chemical agents, noise and less-than-lethal munitions to control the crowd, though the officers were not seen wearing equipment to protect themselves from tear gas.
State police were called in to assist Chicago officers.
Clashes with police soon followed in the area around Trump Tower, with protesters throwing bottles at police and lighting off fireworks. Officers were seen taking protesters into custody, but the number arrested was not immediately available.
A protester breaks a window in downtown Chicago Saturday as other protesters looted stores. Ashlee Rezin Garcia/Sun-Times
Crowds could be seen in arial footage pulling officers off protesters as they were being taken into custody and officers swinging at protesters with batons.
A police SUV was rolled on its side after protesters broke out its windows with clubs and skateboards, soon other police vehicles were lit on fire and left to burn around the area. By 8 p.m., looting was underway at multiple downtown building, including a Sprint store at the Thompson Center after its windows were shattered.
A Chicago police SUV burns outside AMC Theaters Saturday during clashes between protesters and police in River North. Ben Pope/Sun-Times
Most protesters were peaceful at the onset of the demonstration, carrying thousands of signs declaring "No justice, no peace," and bearing the names of African Americans and others who have died at the hands police officers in Chicago and elsewhere.
Tensions quickly mounted in various pockets of the sprawling march, with numerous scuffles between protesters and police. Some people could be seen spray-painting CTA buses and police vehicles, while others hurled eggs and water bottles at officers who scrambled to contain the crowd. Tires on several police SUVs were slashed.
A protester's eyes are flushed out as police and protesters clash Saturday. Ashlee Rezin Garcia/Sun-Times
Tyler LaRiviere
✔@TylerLaRiviere
·
3h
Replying to @TylerLaRiviere
Cops seem to be deploying a LRAD to get protesters off the Wabash Bridge they are issuing warnings now.
#Chicago
#GeorgeFloyd
Tyler LaRiviere
✔@TylerLaRiviere
Cops issuing an automated dispersal order in English and Spanish to protesters on Wabash Bridge.
#Chicago
#GeorgeFloyd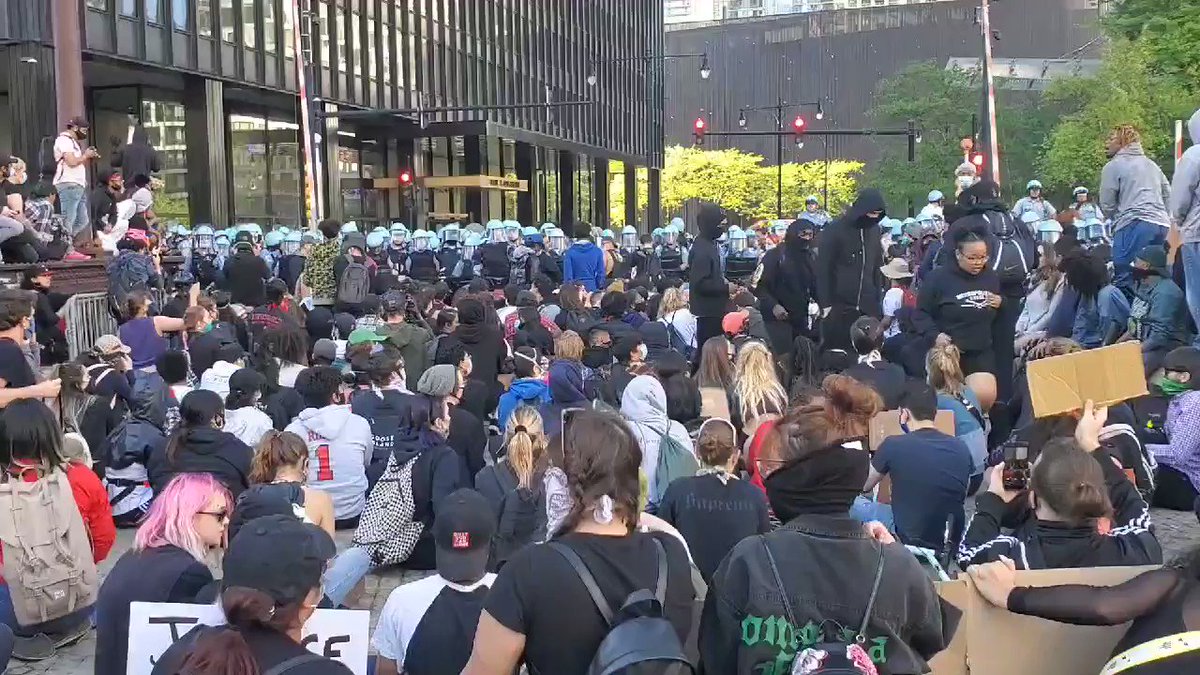 96
5:44 PM - May 30, 2020
·
Chicago, IL
Twitter Ads info and privacy

66 people are talking about this
City officials had braced for a sizable showing, enacting
a sweeping downtown parking ban
that restricted vehicles from Chicago Avenue south to Congress and from Lake Shore Drive west to Wells. The CTA canceled most Loop service for a portion of the afternoon and again in the evening.
The crowds on Saturday dwarfed protests on Friday that stretched into early Saturday. Chicago Police Supt. David Brown said those was mostly peaceful, though a series of tense confrontations led to
108 arrests and about a dozen injured officers
, including one who suffered a broken wrist. Several Loop storefronts were smashed.